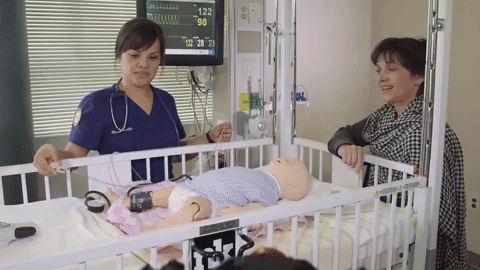 Due to COVID-19 restrictions, all simulation activities are currently provided remotely via Zoom. The use of remote simulation will continue after the restrictions are lifted but the School will once again be able to use our considerable, dedicated simulation spaces.
The simulation program at SF State School of Nursing began with one high fidelity adult simulator and an infant simulator in 2005. The new Nursing Simulation Complex opened in 2009 with over 3,500 square feet of education space, including a renovated Nursing Interventions Classroom (NIC) and a high-fidelity Experiential Learning Suite (ELS) containing four separate bays for Pediatrics, Maternity, Adult Medical Surgical, and Intensive Care patients. In 2011, three clinical examination rooms were converted for use with standardized patients.
The simulation program serves all levels of our pre-licensure programs. Simulation activities covering Adult Medical Care, Community Health, Mental Health, Nursing Fundamentals, Pediatrics, and Reproductive Health are available. The program also supports physical examination training for the Nurse Practitioner Program.
Guided by the Healthcare Simulation Standards of Best Practice™, the nursing simulation team is working towards accreditation by the Society of Simulation in Healthcare (SSH). Several faculty members have conducted research at the SFSU Simulation Lab and have shared their findings with colleagues at the INACSL and IMSH conferences. Additionally, two members of our core simulation team, Dr. Kathleen L. Shea and Mr. Edward Rovera, have become certified as healthcare simulation educators (CHSE). Mr. Rovera also holds the certification as a healthcare simulation operations specialist (CHSOS).
Currently, the simulation staff and faculty conduct 70+ four to eight-hour simulation sessions per semester and are continually striving to improve faculty development, efficiency, and implementation of simulation in the School of Nursing.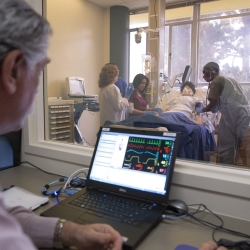 Learn about Simulation Resources for Current Students